Preliminary Program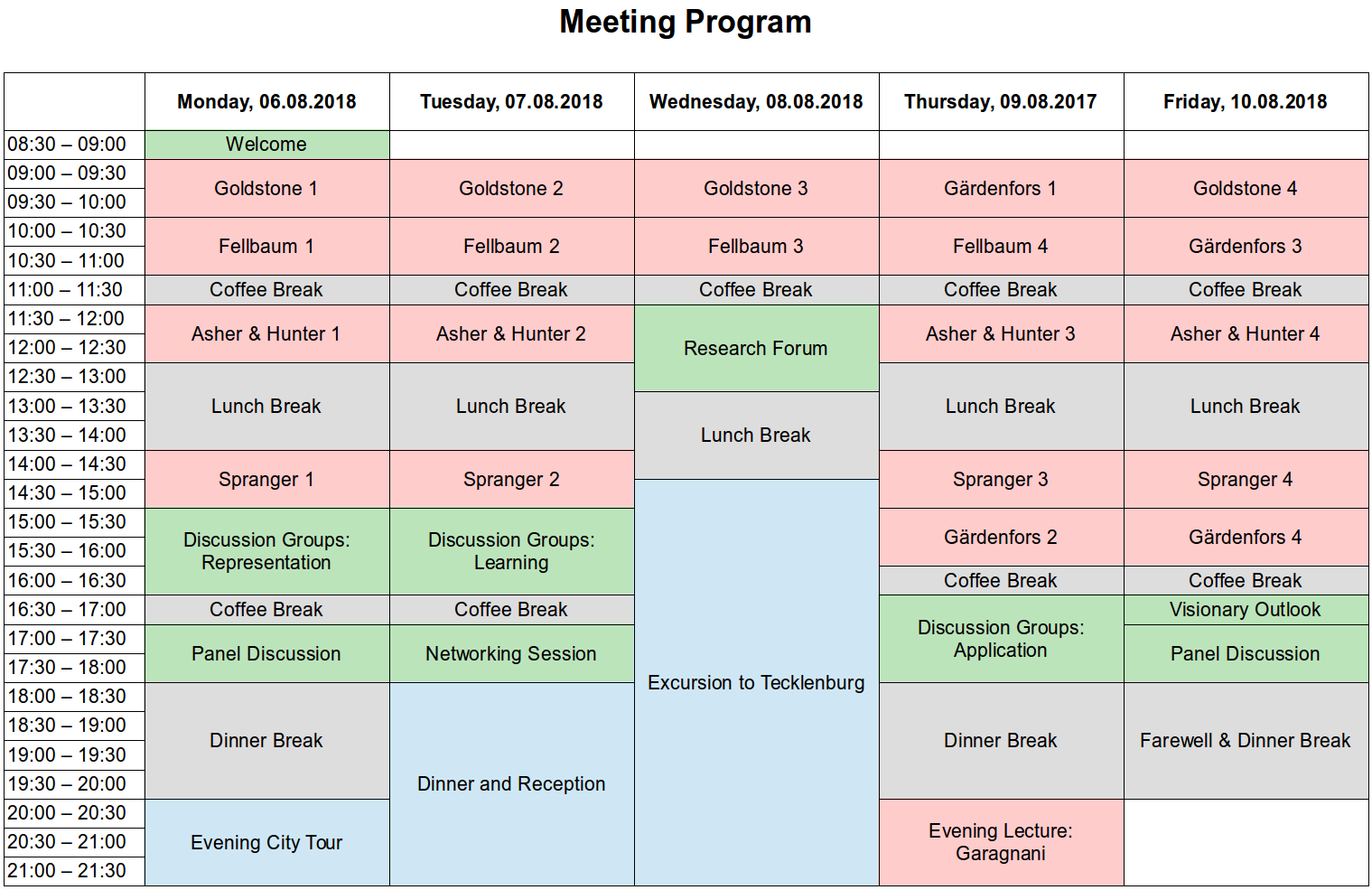 The preliminary program consists of three types of sessions:
Lectures (red):
Interactive Sessions (green):

Welcome
In addition to providing general organizational information, this session allows participants to introduce themselves, their affiliations, and their research areas. They will also have the chance to raise interesting research questions they would like to address in the course of the summer school.
Discussion Groups
Three discussion sessions will focus on one of the three focus topics each. In each session, the participants will form small groups of five persons, discuss a given set of questions for 60 minutes, and then present the results to the plenary for discussion (30 minutes). This format fosters the active involvement of the participants and an interactive learning atmosphere. Immediate feedback from peers and lecturers will benefit both the learning and the research of the participants.
Research Forum
In the first 30 minutes of this session, each participant will sketch the research question on which he or she is currently working. Afterward, the participants will split up into small groups of five persons and will use the remaining time to discuss these questions. In this session, the participants will receive useful feedback on their own research from peers with different backgrounds. Moreover, they will be able to relate their own research to the research that their peers conduct as well as to the overall topics discussed during the summer school.
Panel Discussions
Two moderated discussions will take place with all invited lecturers on a panel and with questions collected from participants in advance with regard to (but not restricted to) the three focus topics. The goal is to help the participants to better understand the scope and limits of the different approaches to concepts and to form or improve their own research questions and methods.
Networking Session
An informal plenary discussion on existing academic events, research institutions, and networks (e.g., mailing lists) concerning research on concepts will take place. Moreover, we will discuss opportunities for future collaborations among the participants and potential follow-up events, for instance, a DFG-funded research network. This will allow the participants to discover research collaboration possibilities within and outside of their respective fields.
Visionary Outlook
In this session, lecturers will outline in a short presentation (of roughly five minutes each) current challenges and possible future directions of concept research from their perspectives. The goal is to equip the participants with further ideas for their future research.

Social Program (blue):

Reception
The reception at the Felix-Nussbaum-Haus provides participants with the opportunity to get in informal contact with their peers and to look at some great artwork.
Evening City Tour
A guided tour through the old city center of Osnabrück.
Excursion to Tecklenburg
The excursion to Tecklenburg offers opportunities to relax, to deepen contacts with other participants, and to enjoy a beautiful landscape.